Prevention of Golf Injuries

The act of swinging a golf club, regardless of how far or straight the ball goes, is an extremely demanding sports activity. The action places significant stresses on the body, and in order to develop club head speeds that can exceed 100 miles per hour in less than one-fifth of a second, muscles and joints are stressed near their limits.

Experts in golf medicine note that it is a combination of a number of factors that contribute to amateur golfer injuries. Some of these factors are:
Poor physical conditioning
Overuse (excessive play or practice)
Failure to warm up properly
Poor swing technique
These are the ingredients for what I like to call Doctor Divotís Recipe for Injury.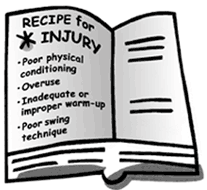 Iím sure you have heard the saying "Physician, heal thyself." Well, letís see if I can figure out just why my back feels like it has been run over by the bulls at Pamplona after I play golf. Take a middle-aged golf nut who couldnít run three miles if his life depended on it (me). Next, send him to a driving range so he can practice his lousy golf swing over and over and over (me, again). Now, on a chilly morning have him jump from the car to the tee without warming up properly (me again, sometimes). And just for good measure, letís take a few dozen pothole-sized divots and whack a few rocks and trees while we are out there (me, always).

So, itís not just bad luck that causes golfing injuries, especially in the amateur. Put it all together and it starts to make sense. I bet you, too, carry with you at least a few ingredients of the Recipe for Injury with you when you hit the golf course or driving range. Come on - be honest!

The good news is that these risk factors for injury are for the most part within the control of the amateur golfer. Rather than dealing with a painful injury after it occurs, doesnít it make a lot more sense to avoid injury in the first place? Say, "Yes, Dr. Divot, teach me more."

By reading Dr. Divotís Guide to Golf Injuries - A Handbook for Golf Injury Prevention and Treatment I will teach you:
A basic golf conditioning exercise program to keep your "golf muscles" in shape
A simple "head-to-toe" warm-up and stretching routine to use before you practice or play
How to recognize and avoid common swing technique flaws that lead to painful injuries
"Dr Divot's advice will help golfers at every level avoid nagging injuries--from weekend hacker to country club pro."†††††††††††††††††††††††††††††††††††††††††††† †††††††††††† Tom Nieporte, Head Pro, Winged Foot Golf Club
"A comprehensive guide to prevention and treatment of the most common golf injuries...that provides authoritative medical expertise...in language that makes it easy for the golfer to understand."† Golf Business News
ďWhat I liked best was (that) the author stressed what the golfer should do prior to the start of a round.Ē R. Brand, Partners Club Member Tester
ďI have wanted to buy a book or a video that shows how to and what to stretch before I play. Not only does Dr. Divot do that, he also tells you how to take care of yourself once you have been injured.Ē C. Cunningham, Partners Club Member Tester
ďI always found that it took me four to six holes to really be stretched out enough to play comfortably. Chapter 10 on golf warm-up is being used by me and the other members of my foursome.Ē J. Proto, Partners Club Member Tester
Click here to learn more about the book†(table of contects, excerpts, ordering info...)